Dento – Facial Aesthetics
Muscle Relaxant and Dermal Fillers
What are Dento Facial Aesthetics?
A traditional smile makeover can achieve a whiter and straighter smile – but this is really
just a "tooth makeover". As we age, our skin loses its elasticity, causing wrinkles, lines, depressions and a sunken appearance. Your dentist can now help smooth out the wrinkles and fill in the folds. Your beautiful smile will be framed by a more youthful looking, but still age-appropriate, you. This is a true "smile makeover".
What is Botox © ?
It is actually a trade name for Botulinum Toxin type A (BTx-A), a purified natural protein that is administered through the skin to work on the under- lying muscles of the face.
Over years of repetitive and sometimes hyperactive contraction, these facial muscles cause wrinkles in the overlying skin. BTx-A relaxes the muscle con-tractions and allows the skin to become smooth again –regaining a more youthful appearance. Results are temporary,
lasting for 3-6 months.
Before and After Treatments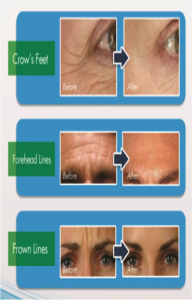 Why your dentist is ideal for the job…
As health practitioners, your dentist will tailor minimal treatment for each individual to restore natural beauty without looking obvious; just enough for friends and family to comment how refreshed and rejuvenated you look, without ever knowing just what has changed! Dentists have a thorough understanding of facial structures and anatomy to achieve the best results, but also avoiding potential complications. They can also deliver profound anaesthesia so that you experience the treatment in total comfort.