Most people find it difficult and tedious to clean the gaps between their teeth. If you are one of these people then InterBrush may be the product for you.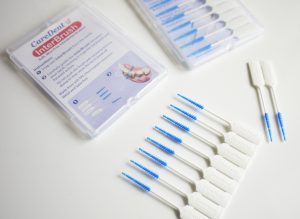 InterBrush has soft, gentle and flexible rubber bristles that are wire free. This product is ideal for those hard to reach spaces between teeth, orthodontic appliances, around bridges, and even those implants and crowns. InterBrush comes in different sizes, just like those spaces in between teeth.  We have the small blue (1.5mm – 3.5mm) and the medium orange (2.6mm –  4.4mm) ones; refer to the picture above for a visual reference.
Using these brushes is as simple as 1, 2, 3:
Snap one InterBrush from the comb
Carefully guide the InterBrush between your teeth
Gently move the InterBrush in a backward and forward action*
Call us today on 62557800 to talk to your dentist for the right size for you.
*Do not push the brush with excessive force as doing so may cause the tip to break off!