With more support than ever before in the health industry, there are multiple new and exciting developments in technologies that are changing dentistry. From smart toothbrushes to virtual reality technology, this month's blog will discuss three currently in the market.
Implants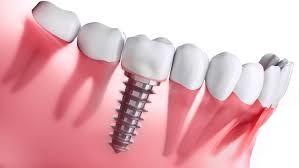 A dental implant is a medical device mimicking a tooth which is cemented to the jaw using a screw like structure. Implants are used for people needing teeth replacement that want the convenience of a long-term solution that stays in the mouth (unlike dentures).
Although the first dental implant was installed in 1965, implants have only just recently become a more affordable and popular choice, with the global dental implant market at $5.17B AUD.
Recent advancements in the implant industry include antibacterial coated implants. The antibacterial coast consists of a silica gel with antibacterial agents which further reduce the chance of infection.
Smart toothbrushes
Smart toothbrushes a recent and enticing device in the dental market.  These smart toothbrushes contain pressure sensors that translate to a more comprehensive understanding of the user's mouth.  The user can navigate the status of their previous cleans and overall brushing health.  The factors that determine brushing health include pressure, frequency, and brushing coverage; notifying you on areas that may have been missed or need more attention.
Although one does not need a smart toothbrush to clean well, with the real time feedback from smart toothbrushes, the cleaning process is far more engaging and therefore can be more effective, particularly for those needing extra support cleaning their teeth.   Smart toothbrushes start at around $50 making them an affordable choice.
Dental simulator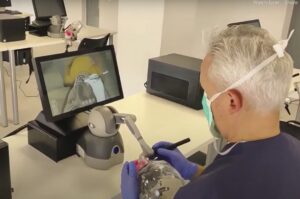 As we have seen virtual reality, or 'VR', become a riveting piece of tech in the entertainment industry, its benefit is now being seen in the dental industry through the training of dental students.  The innovation has been utilized during the various lockdowns dental students have endured over the recent years, combatting the issue of isolated learning.  These portable VR sets simulate realistic procedures in clinical environments with continual feedback on their drilling, pressure, and overall technique.
Students use models connected with the VR to further simulate the real experience.  From cleans to restorative work, these VR devices enrich the learning experience for dental students, as well as support their confidence.  As COVID-19 and its restrictions prevail, dental VR sets are only growing in popularity across universities around the globe.
Sources:
More